Quick Details
Place of Origin:
Henan China (Mainland)
Brand Name:
JinZhen old tyre oil extraction plant
Model Number:
JZM1---1113
Boiler material:
245R boiler steel
Tire machine type:
old tyre oil extraction plant
Reactor size:
2600*6600
Daily capacity:
10tons
Raw material:
waste tire/ plastic /rubber
Cooling system:
Vertical / Horizontal condenser
Products:
crude oil steel wire carbon black
Fuel:
coal / natural gas /oil
After service:
installation and training
Certificate:
ISO & CE
Packaging & Delivery
| | |
| --- | --- |
| Packaging Detail: | frame and container |
| Delivery Detail: | 15days when we received 30%advanced |
Specifications
1.safety recycling plant.
2.50% oil yield.
3.Environmental operations.
4.warranty one year.
5.Better cooling system.
old tyre oil extraction plant The waste tyre pyrolysis plant consist of eleven parts:reactor,gas separator, water-oil separator , cooling pool, condensor, oil tank , water seal , desulfurization deduster ,water film cyclone , draft fan , chimney.the output is crude oil,carbon black and steel wire.


1. about us
We are the manufacture which has specialized in this field for about 20 years. The plants can refine waste tyre/plastic/rubber to oil and other output.
2.Details about the machine.
1)Features of the plant:
· 100% wastage tyre recycling is achieved (No churn left after the process)
· No chemical ingredients are used in process (environment friendly)
· During and after the process; no soil, water or air pollution is observed.
· Creates economically valuable products out of wastage tyres (These are an industrial product that have a good market value and demand)
· The most cost-effective wastage tyre recycling technology ln the world.
· Raw material (wastage tyre) is cheap and easy to provide. These are the by-products of tyre production.
· Each recycled ton of tyres preserves 10 tons of CO2 that is a major green house gas.
· It is a 100 % pollution free process, thus making eco-friendly environment.
· The process can be applied to all rubber based materials.
· The system creates an alternate source of energy to replace petroleum products and natural gas.
· System gives the opportunity to governments and local administrations to deal with the wastage tyre problem to a great extent.
· The process of Pyrolysis has duration of 4 to 12 hours, depending on the quantity and size of tyre (car tyre, truck tyre, etc.). During the process different vacuum values are applied in pre-determined temperatures and ln different phases. Different gases are obtained and the condensed gas is stored as a fuel oil in tanks.
2)Technical parameter: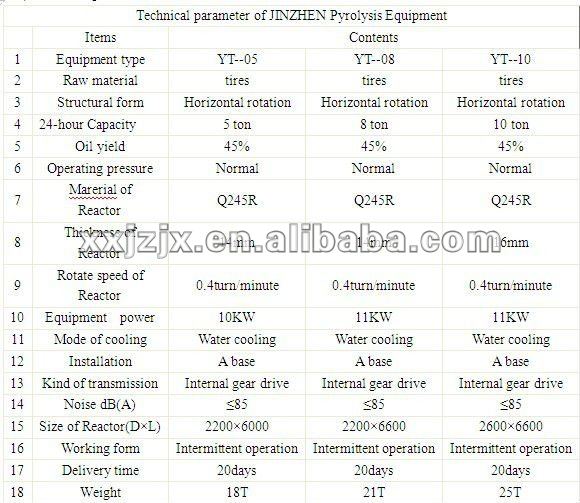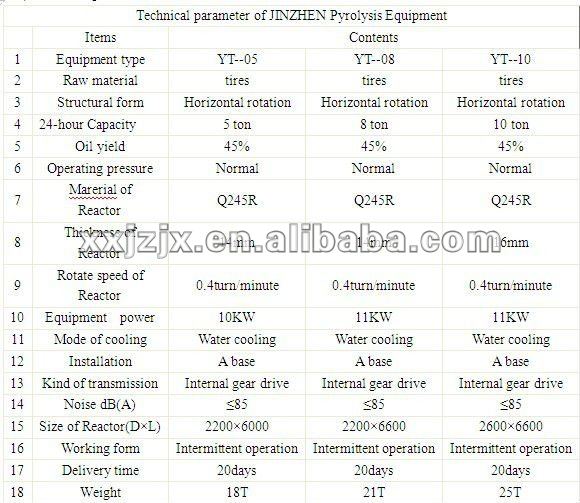 Batch Type
| | |
| --- | --- |
| Items | Time |
| Loading hours | 1-2 hours |
| Process hours | 6-8 hours |
| Cooling hours | 8 hours |
| Discharge carbon black and steel wire | 2 hours |
| Total hours | 17-20 hours |
Containers
| | |
| --- | --- |
| Model | Container |
| 5 tons | one 20 GP and one 40 HC |
| 8 tons | one 20 GP and one 40 HC |
| 10 tons | One 20 GP and one flat rack container |
Machine motor Power of Scrap Plastic Machinery
Item

Power

Motor

4KW

Blower

10t/8t

0.25KW*3

5t

0.25KW*2

Draft fan

4KW

Screw

4KW

Belt conveyor

4KW

Total

16.5-16.75KW
Different Percent of the outputs:
| | | | |
| --- | --- | --- | --- |
| Fule oil | Carbon black | Steel wire | Waste gas |
| 45% | 35% | 10-12% | 8-10% |
3.Company Culture:
The feathure of the products:
Environment friendly:
1.Well water dedusting system can avoid black smoke.
2.The exhaust gas will be recycled for heating reactor, no gas pollution
3.Every junction of the reactor is in good sealing situation with professional sealing material.
Long service life:
1.Material: Q245R special steel plate ,thickness 14mm.
2. Welding: Automatic welding machine with heating treatment and x-ray detection will prolong the service life of reactor to the max.
3. The service life of the reactor will be 8 -10 years
Energy saving:
1. Well sealing for heating system , no gas leak and saving fuel.
2. The exhaust gas will be recycled for reactor heating .
Company Commitment
The company pledge that each kind of series equipment we sell have the consummation the post-sale service,that thoroughly settle down customer extra worries.
Our Unique Advantages:
1 No need to crush tires, we can feed whole tires into reactor. Save manpower and improve productivity.
2 Two water sealing devices, safety-valve, auto-alarm, vacuum device guarantee safety.
3 Specialized catalyst improves oil yield and oil quality.
4 Tail gases recycle to furnace. Save energy and environmental friendly.
5 All cooling waters are circulatory. Great cooling effect.
6 Flue gases are processed by dust removal device. Reach emission standard. No pollution.
Our Big Family---Let's Fighting For Our Future Together.
If you needed any help, pls feel free to let us know, we wll try our best to help you.
WELCOME TO OUR FACTORY!!!