Quick Details
Place of Origin:
Henan China (Mainland)
Brand Name:
JINZHEN pyrolysis refining system
Model Number:
JZM1---278
Boiler material:
245R boiler steel
Machine type:
pyrolysis refining system
Reactor size:
2600*6600
Daily capacity:
10tons
Raw material:
waste tire/plastic/rubber
Cooling system:
Vertical / Horizontal condenser
Products:
crude oil /steel wire /carbon black
After service:
installation and training
Fuel:
coal / natural gas /oil
Certificate:
ISO & CE
Packaging & Delivery
| | |
| --- | --- |
| Packaging Detail: | frame and container |
| Delivery Detail: | 15days |
Specifications
1.safety recycling plant.
2.High oil output rat.
3.Environmental operations.
4.warranty one year.
5.cooling system is better
pyrolysis refining system
1. Each set of equipment are composed by ten parts:
a. main engine horizontal type revolving split processor
b. Horizontal-fixed distillation Processor
c. Feeding-in system.
d. Tapping system.
e. Central electrically controlled system.
f. Condensation system.
g. Every oil refining systems...
h. fuel gas heating system (waste gas processing system).
i. Waste water processing system..
j. Flue dust removal system..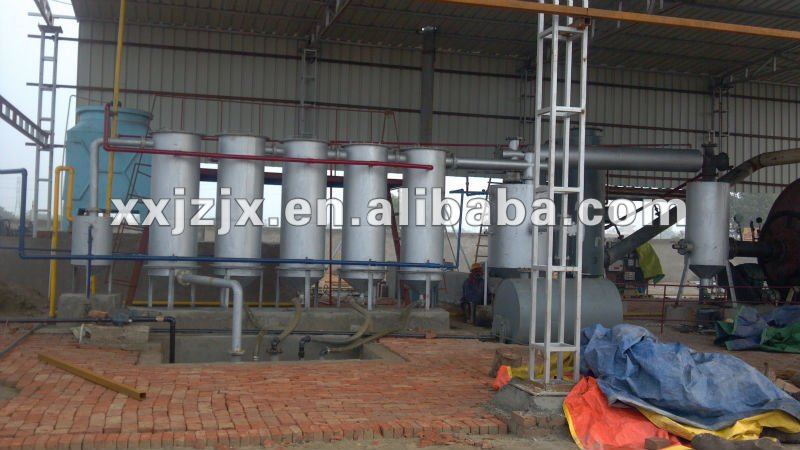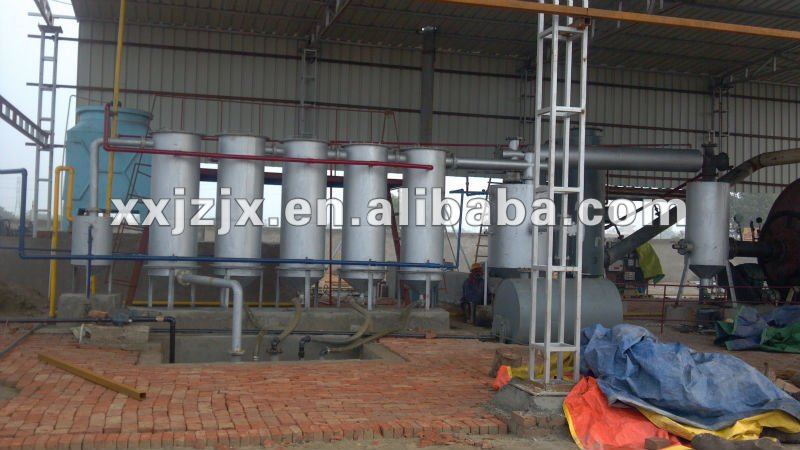 1
2. Domestic pioneer of this technology
a. In its key installment decomposition processor design,
has thoroughly overcome the disadvantages of the domestic present vertical flat base split processor,
such as bottom partial being heated non-uniformity, easy to break, low output,
short service-life is short and so on, the main engine uses horizontal-type 360ostructure-0.4 R/M
b. Fast practical feed-in and discharge system.
The highest feed-in quantity of the XY-5 every 24 hour achieved 5 tons,
Discharge time for 300kg carbon black only needs 90 minutes.
The highest feed-in amount of the integral unit equipment every 24 hours achieves 15 tons.
Unique advantages compare with other suppliers
1.Safety:
Unique technology for 100% guarantee of no fire and explosion accident besides normal measurement for
safety such as safety valve, alarm system, etc.
2.Technology:
We have already obtained the international PCT(Patent Cooperation Treaty) with application number of PCT/CN2010/080573 for Continuous Pyrolysis Method.
3. Heating method: adopt the latest heating method---take the advantages of both direct heating and indirect heating which brings the following profits:
3.1 Fuel: it saves 20% fuel. Take coal for example, we will save around 100KGS per day. It means you can save 20 USD per day
3.2 Depreciation: We only need to change the front part of the reactor by using this heating method.
It will cost us around USD20000.00 for changing the whole reactor,
while it will only cost us around USD4000.00 for changing the front part of the reactor.
Quality: Besides the normal quality control measurement, we make every part of the machine with special process
card which is designed exactly and strictly according to the ISO14001/9001
Service: we have a professional service staff especially responsible for your running plant besides
our sales manager and the technician.