Quick Details
Place of Origin:
Henan China (Mainland)
Brand Name:
Jinzhen
Model Number:
JZC2027
MATERIAL:
245R boiler plate
VOLUME:
8 tons
LENGTH:
6600mm
DIAMETER:
2200mm
THICKNESS:
16mm
RAW MTERIALS:
natural rubbers and waste rubbers
FUEL:
coal, wood, gas and other fuels
TOTAL WEIGHT:
19 tons
WARRANTY PERIOD:
1year
COOLING AREA:
42 sqm
Packaging & Delivery
| | |
| --- | --- |
| Packaging Detail: | container or frame |
| Delivery Detail: | 15-20 days |
Specifications
1.eco-friendly
2.special exhaust removal system
3.large cooling pool
4.India, Pakistan
5.automatic operating
JZ Waste Rubbers Recycling Machine
The whole pyrolysis system is composed by 14 parts, which are reactor, insulation layer, furnace, transmission device , oil-water separator, depositing tank, condenser, cooling pipes, light oil tank, safety device, water seal, dedusting system, draft fan, chimney.
The keys of pyrolysis machine are reactor, cooling system, and safety system and exhaust disposal system.
Feed the reactor with raw materials through the feeding door by labor or machine and then close it tightly. Heat the reactor with coal, wood or other fuels. Some harmful smoke will come out along with the heating, but it can be removed by the desulfurization deduster, the water film cyclone and the bag deduster. The smoke form the exhaust disposal system is no different from the air. The draft fan helps to inhale the smoke from the pipe and then release it into the sky more quickly.
The oil gas will travel from the reactor to the gas separate, in which the heavy oil and impurities will depart from the gas due to the gravity. Then the gas will continue its journey into the depositing tank for a second separation. After that , the cleaned oil gas will run into the cooling condensing pipes in the cooling pool, where the gas will convert to liquid, the oil, and then flow into the oil tank for storage.
There will be some waste gas in the oil tank. It will follow the pipe over the oil tank into the cooling pool for a second condensing so that the remained oil gas could turn to oil to improve the oil yield rate. As for the waste gas, that cannot transform to liquid will go to the water seal and then to the furnace for burning. It is not only environment protection but also energy conservation.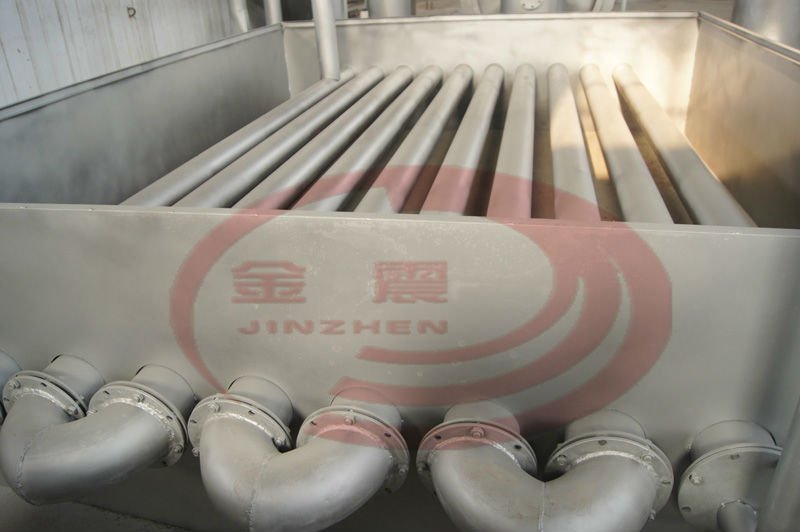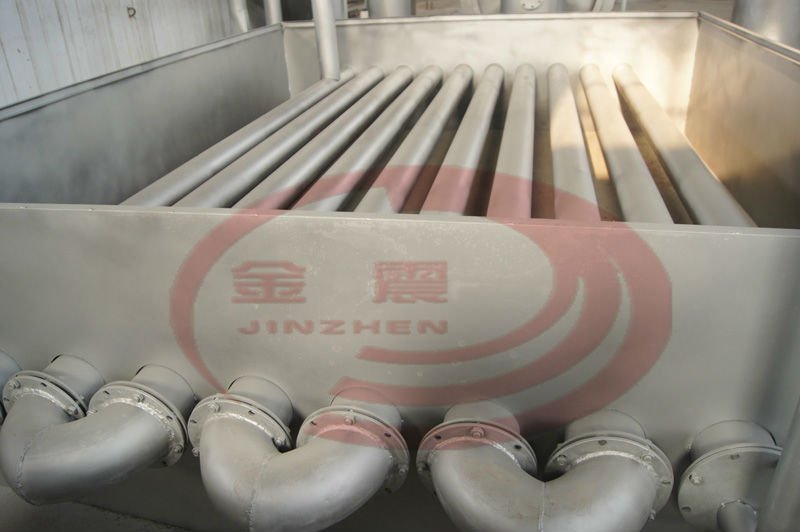 condensing system
1,the "S" shape extends the condensing area
2,the open pool makes natural cooling aviable, which is energy conservation and free of danger
3,cooling down quickly with the pipeline diameter of 219mm and length of 6m
4,the elbows make it easier and convenient to clean and maintain
5,just need to make up the vaporated water, it's water conservation
6,condensing tower and other cooling equipments can be added based on the customers' requirements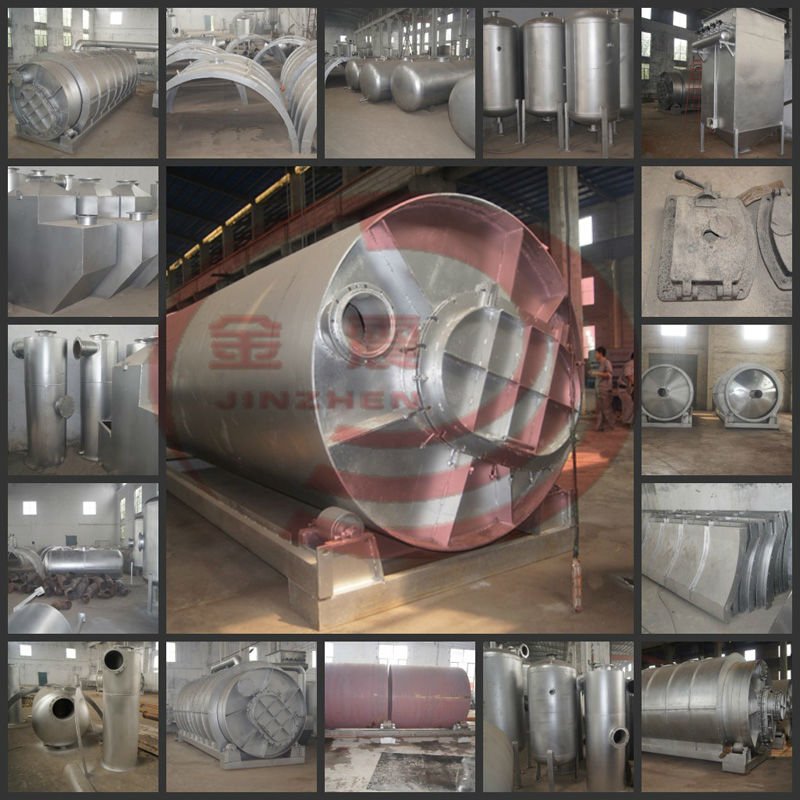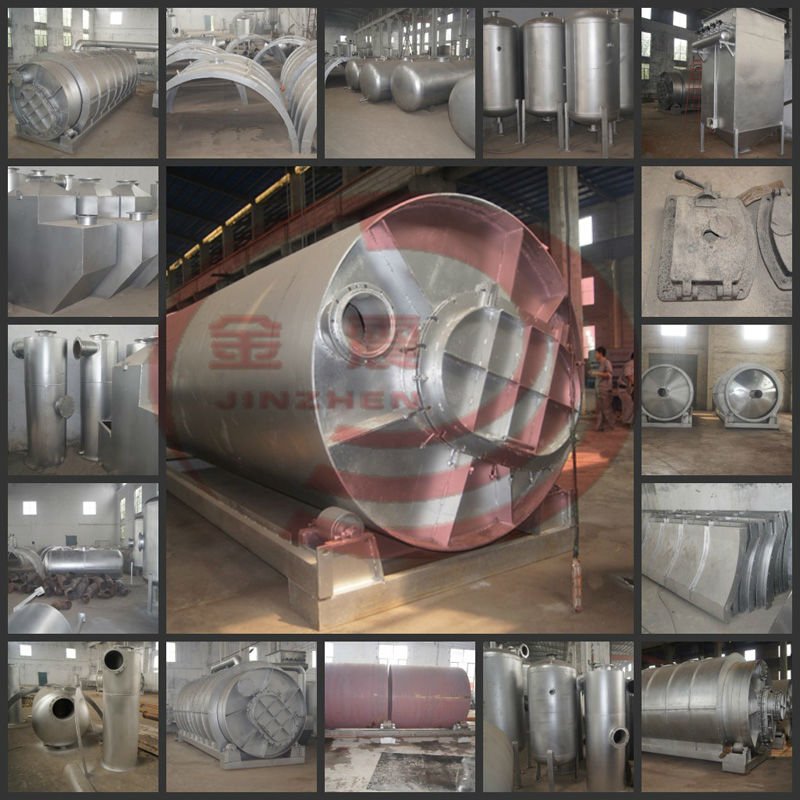 External dimension of main machine(Diameter*Length)

2200*5000mm, 2200*6000mm, 2600*6600mm

Raw material

Waste tire , Waste rubber, Waste plastic

Oil yield/day

Waste tire/rubber

Big tyres

45%-50%

Car tyres

40%

Bicycles and motorcycles tyres

30%-35%

Waste Plastic

Fishing net ,

safety net, farm-oriented film

45%-50%

Convenient bags, weave bags

40%

Off-cut of recycled paper mill

20%-30%

Structural Form

Horizontal

Capacity/day

1-2 batch/day

Equipment Type

Universal Equipment

Operating pressure

Ordinary pressure

Power

Coal ,fuel gas , fuel oil , charcoal

Mode of cooling

Water-cooling

Working form

Intermittent

24 hour disposal amount

5/8/10 tons raw material

24 hour oil yield

Depends on oil output rate

Rotate speed of main equipment

0.4 turn/m

Power in total

9 KW/hour

Heating mode

Direct heating