Quick Details
Place of Origin:
Henan China (Mainland)
Brand Name:
Jin Zhen
Model Number:
JZT0392 Plastic Oil Refining
Oil yield:
45%-50%
Operating pressure:
Normal
Structural form:
Horizontal rotation
Mode of cooling:
Water cooling
Kind of transmission:
Internal gear drive
Noise dB(A):
≤85
Working form:
Intermittent opration
Delivery time:
20days
Raw material:
tires/Plastic
Cooling area of condensor:
37 square meters
Packaging & Delivery
| | |
| --- | --- |
| Packaging Detail: | Plastic Oil Refining 5T or 8T is packed with two 40HQ 10T is packed with one 40FR and one 20GP |
| Delivery Detail: | 20-29 days |
Specifications
Plastic Oil Refining
High Oil Yield:up to 50%
ISO9001,ISO14000,CE
have exported to India,Pakistan
no pollution
Scrap Plastic Oil Refining Equipment
Feasibility Analysis Report(Take waste tire oil refining equipment processing 8 tons for example)
Cost of A per day

Cost of B per day

Profit

8 tons of waste tires:

8T×1300RMB/T=10,400RMB

Price of Fuel oil:

8T×45%×4800RMB/T=17,280RMB

Daily profit:

B-A=10680RMB

0.4 tons of coal:

0.4T×800RMB/T=320RMB

Price of Steel wires:

8T×20%×2200RMB=3520RMB

Monthly profit:

10680RMB×25=267,000RMB

Water and electricity:

200×1.00RMB=200RMB

Price of carbon black:

8T×30%×500RMB=1200RMB

Annual profit:

267,000RM×10=26,700,000RMB

Workers:

4×100RMB=400RMB

Total of A:

A=10,400+320+200+400=11,320RMB

Total of B:

B=17,280+3520+1200=22,000RMB

REMARK:

1 USD = 6.41 RMB
HighTechnology
a. In its key installment decomposition processor design, has thoroughly overcome the disadvantages of the domestic present vertical flat base split processor, such as bottom partial being heated non-uniformity, easy to break, low output, short service-life and so on,
the main engine uses horizontal-type 360ostructure-0.4 R/M.
b. Fast practical feed-in and discharge system. The highest feed-in quantity every 24 hour achieved 5 tons. Discharge
time for 300kg carbon black only needs 90 minutes. The highest feed-in amount of the integral unit equipment
every 24 hours achieves 15 tons.
c. Highly effectively gas heating system. In the process of refining oil, after the gas is heated up to 150 , it will produce a large amount of unliquefied gas-CH4& C4H8 , which cant be formed at normal temperature, normal pressure. If those gases have been fully burning
by the specific designed gas nozzle, they can produce a great amount of energy and economize resources.
Specifications
1. The raw materials: waste tires,plastics and rubber
2. Total Capacity: 5 tons/day, 8 tons/day,10 tons/day
3. the size of reactor:2.2m*5m,2.2m*6.6m, 2.6m*6.6m
4.Average crude oil: 45%
5.Average carbon productivity :30%
6. Average steel productivity: 10%
7.Average gas productivity: 5%
8. The decompose temperature: maximum temperature is 500 degree Cm
9. Pyrolysis time: 8 hours
10.Discharging time: 2 hours
11.Feed in time: 2 hour
12.Reactor depth-ratio: 2/3
13.Design pressure: 0.04 Mpa
Advantages
(1) Safety:
1. With an auto welding machine for the reactor, it can not only greatly improve working efficiency but also guarantee the quality of
welding seam, thus avoid explosion caused by gas leak.
2. Professional heating treatment and x-ray are especially for welding.
3. Anti-block device. It can prevent the block in the reactor.
4. Professional thermometer, pressure gauge and safety valve.
5.It is dangerous to burn exhaust gas(C1 to C4) without any safety measures. In our process, it is transferred first through
the safety device and a safety spray gun. Before burning, we should ensure the safety of production.
(2) Environment friendly:
1.Well water dedusting system can avoid black smoke.
2.The exhaust gas will be recycled for heating reactor, no gas pollution
3.Every junction of the reactor is in good sealing situation with professional sealing material.
(3) Long service life:
1.Material: Q245R special steel plate ,thickness 14mm.
2. Welding: Automatic welding machine with heating treatment and x-ray detection will prolong the service life of reactor to the max.
3. The service life of the reactor will be 6 years
running machine: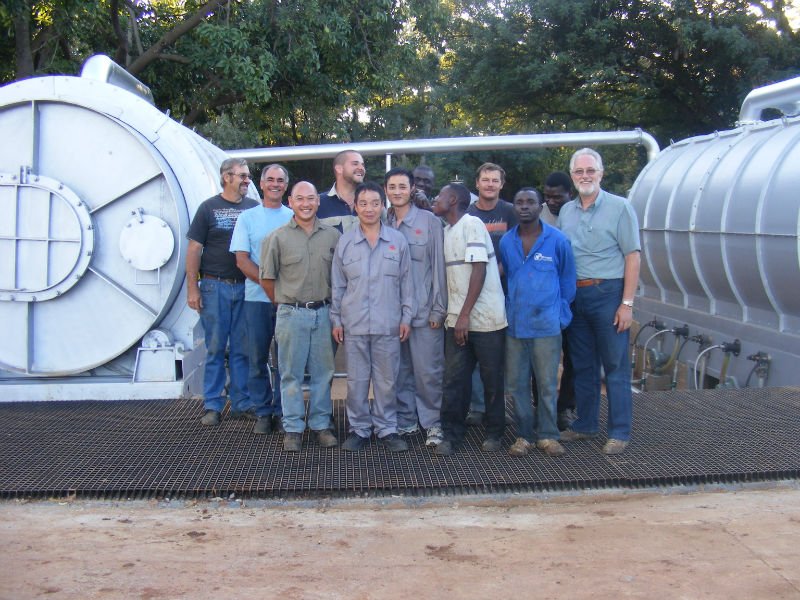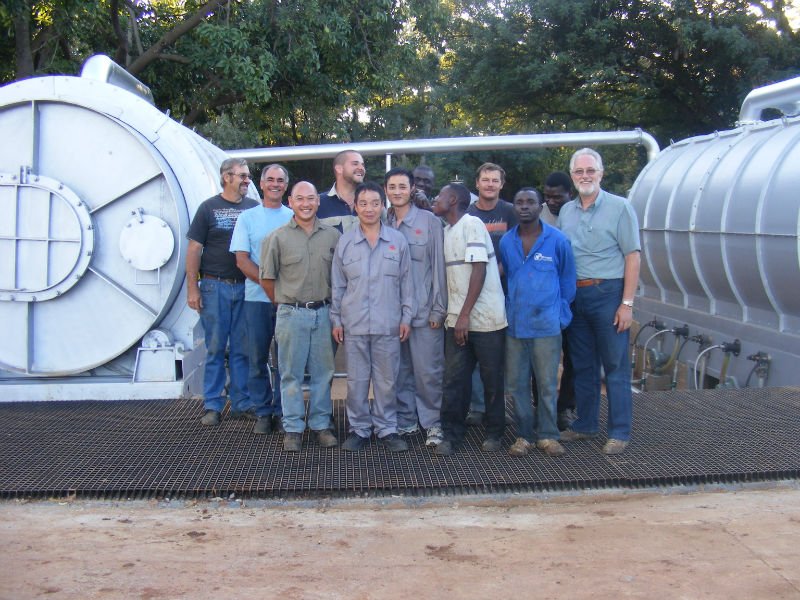 if you have some questions , please contact me !
welcome to our company at your convenience .